SeeSaw is an awesome music teaching app. Well, you can use it to teach just about anything, but I love to include it in our music teaching curriculum kits. This is one of the SeeSaw activities included in our Brush, Brush, Brush unit with SteveSongs.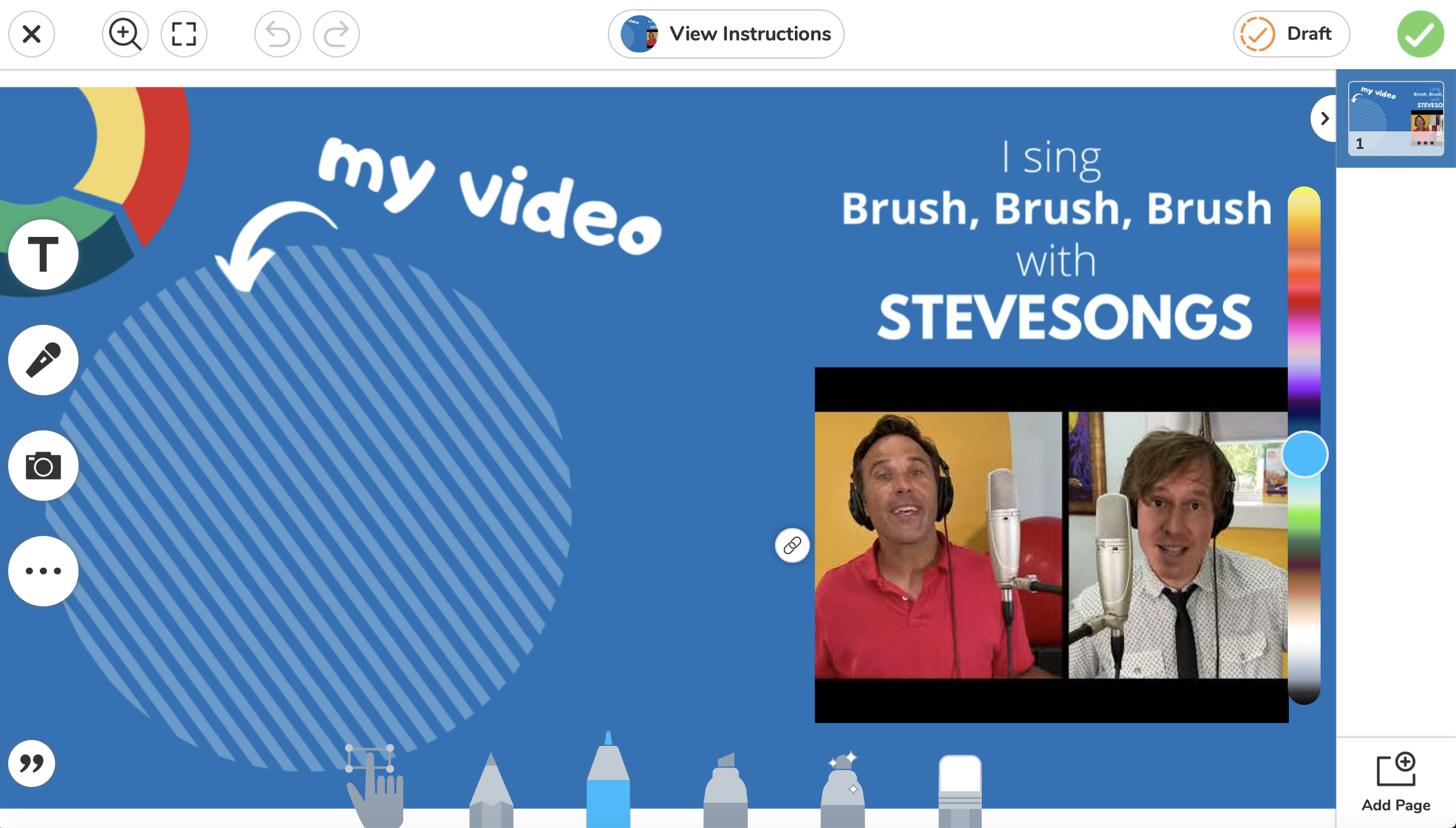 What is SeeSaw?
SeeSaw is a web-based platform and app which allows students to create their very own digital portfolio. Teachers can create assignments or activities, and students can complete them using tools like drawing, video, audio, and text.
---
Is SeeSaw a popular teaching app?
Seesaw is used by over 10M teachers, students, and family members every month across more than 75% of schools in the U.S. Your work at Seesaw will have broad reach and meaningful impact.

---
How does SeeSaw work for my students?
---
How does World Upside Down integrate SeeSaw into the elementary music learning activities?
Check out this preview video to see a very quick snippet of how we incorporate SeeSaw into our learning activities. The video is cued to start at 1:25 minutes. Of course, you can always watch it from the beginning if you want to. We love how students can watch our videos, practice a song, and submit their own video of the song with our without the practice video playing.
---
How do students respond to the SeeSaw activity?
These are the instructions we've provided for the SeeSaw activity in our Brush, Brush, Brush music curriculum resource kit.

Description: This activity will help you practice the lyrics and motions for the song Brush, Brush, Brush with SteveSongs.

1. Click the add response button.
2. Click on the link to play the song video.
3. Turn on the Closed Captions to see the lyrics.
4. Practice singing the lyrics and the movements to the song with the video.
5. Click the video to record yourself singing the song along with Steve. You can play the video and sing at the same time. [For the Bridge, you can sing with Steve or Chris.]
6. Resize your video box to cover the white box.
7. Click to submit your response.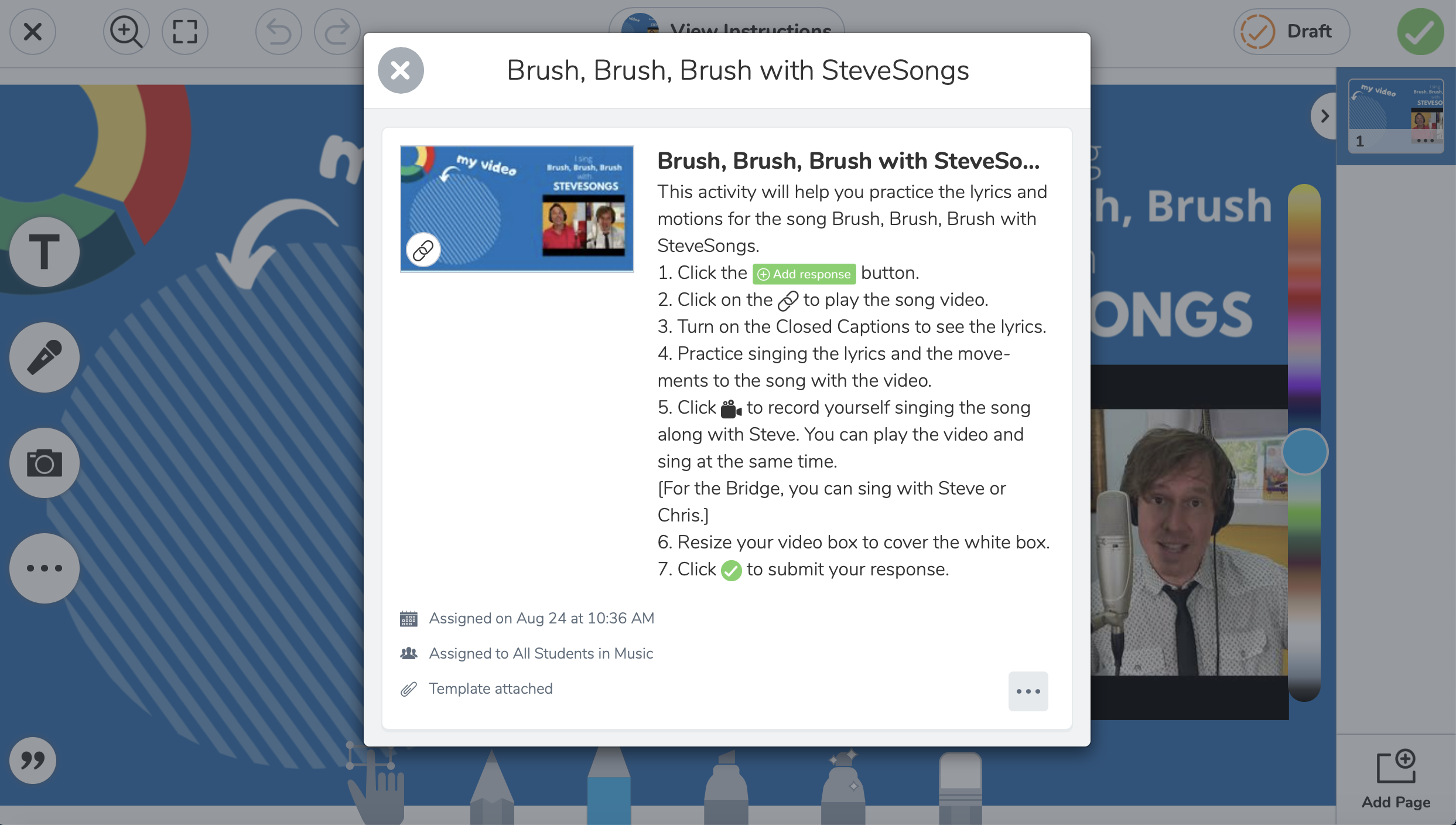 How much does SeeSaw cost?

The free version of SeeSaw includes: creative tools, family messaging, 2 teachers per class, 10 active classes and up to 100 activities. They do offer a paid version at $120/year and special pricing for schools. Click here for more details on SeeSaw pricing.
---
How can teachers create a SeeSaw activity?

We include SeeSaw activities in our curriculum kits so you don't have to. You'll find them integrated in our Nearpod lessons, and we also provide you with the SeeSaw activity link so you can use it as a stand alone activity. To access the activity, you just click on the SeeSaw activity link, heart the activity, assign it to your class, and edit as needed. We encourage you to leave recorded instructions for your activity so that you can customize the activity for your students.
If you're interested in creating your own SeeSaw activity, this tutorial shows you how to use the activity library workflow, create an activity, keep your activities organized. You'll also see what the student's experience looks like so you can adjust and adapt as needed.
How can SeeSaw be used for feedback and reflection?
---
"Some teachers use Seesaw primarily as a place for students to share their work, and specifically encourage individual reflection and peer feedback. Seesaw becomes a place not only where student work can be stored, but where teachers and peers can provide encouragement, constructive criticism, and suggestions for improvement. An authentic audience of peers can encourage students to do their best work. Teachers have the opportunity to review any comments before they are posted to ensure that feedback is constructive & appropriate." (Alison M. from SeeSaw)
How can SeeSaw be used for assignments & assessments?

---
"Some teachers choose to use Seesaw in a more private way, where they can do student assessment, collect work, and give direct private feedback to students. You can even push assignments to students for them to complete and turn in via Seesaw. This makes Seesaw primarily a place where students and teachers can interact around their work." (Alison M. from SeeSaw)

---
How do teachers use SeeSaw to engage more with students' families?
"For other teachers, Seesaw is primarily used a way to communicate with families and keep them in the loop on the learning their child is doing at school. Students add posts to Seesaw that they are proud of in a self directed way, as well as work their teacher has assigned. Teachers report that students are motivated to do better work when they know their families will provide immediate feedback during the day or ask them about it that evening." (Alison M. from SeeSaw)

---
What kind of training does SeeSaw provide for teachers?
Not only does SeeSaw provide training for teachers, but you can also get professional development hours for it. You can use the Training Pathway to decide which sessions are right for your staff, then review the Facilitator Overview to learn what to expect from the PD Kits. Click here to learn more about SeeSaw's professional development program.
---
How do teachers train families to use SeeSaw so that they can maximize family engagement?
Start with inviting Families to Connect on the Seesaw Family App. There are two ways to do this.

Option 1: Click +Families to Invite Families Through Seesaw
Print Invites: Generate a PDF for each student with a unique QR code. Send PDFs home in backpacks, attach to an email, or use snail mail.
Text/Email Invites: Family members receive a text message or email with a link to connect to their child's journal.
Option 2: Support Families to Connect Remotely
Make sure all families are able to connect on Seesaw even when you cannot meet in person. Family-facing resources are available in English and Spanish.
Click here to find all of the steps, videos, and links you need to get your families started.
---
If you're interested in more SeeSaw training videos, check out this SeeSaw's YouTube playlist: SeeSaw training.